The Changing Face of Vans 365
Since opening our doors, our brand has gone from strength to strength to deliver the very best range of new and used vans around. As well as serving Bristol based businesses with our fantastic sales options and aftercare services, we deliver the same high quality offering to companies throughout the UK. With the launch of our brand new website, we thought we'd take a look at the changing face of our company, from our foundation to the brand you see before you today, across the three important areas of our business.
Our company started in 2010 with just two vehicles and now has hundreds of quality vans and pickups available to meet the needs of our expanding client base. Our customer driven focus and attention to detail has proven to be a decisive factor in our growth and success. We're extremely proud of our new state-of-the-art two-acre site, where we stock a wide range of vans from all the main manufacturers, including Ford, Citroen, Nissan, Vauxhall, VW, Peugeot, Renault, Mitsubishi, Isuzu and Mercedes… all top quality, all subject to a 100-point pre-delivery Inspection and all with a FREE RAC warranty.
At Vans 365, we make it easy for people to buy. We price check daily to ensure that our customers get the best possible deal and deliver nationwide with an easy, fast and friendly service. We also offer a choice of low rate finance options to suit. Our service doesn't end there. We also provide a wide range of other services and accessories including vehicle racking, ply lining, tow bars, roof racks, roller shutters and sign writing. Our business motto is easy, fast and friendly so call, email or better still visit us today!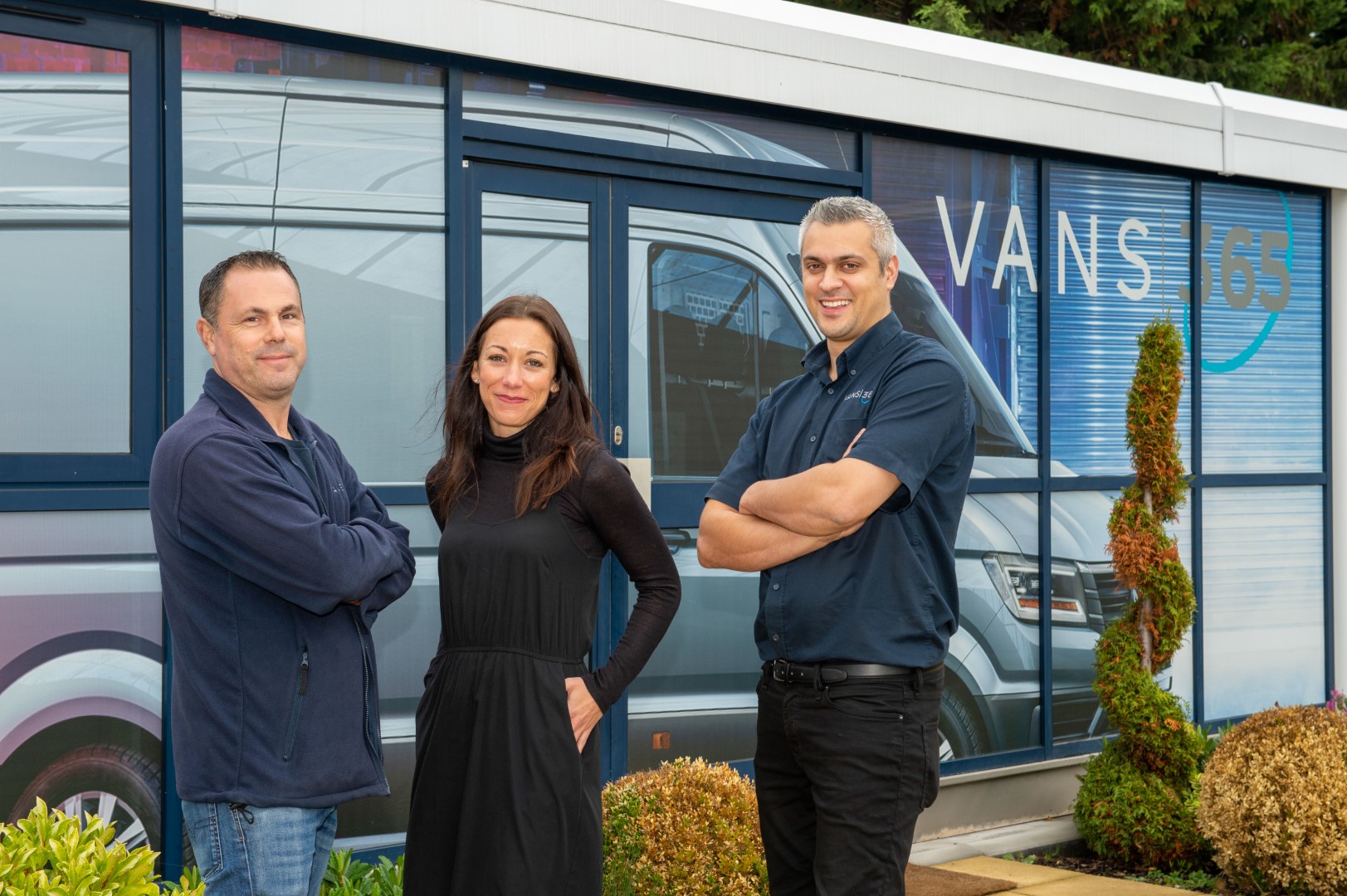 Sales
Our commercial vehicle showroom, and the stock that makes it one of the most browsed collections, has expanded dramatically in recent years. Our team recognises and appreciates quality just as much as you do, and source all our new and used van stock with this at the very forefront of our mind. Our quest for quality doesn't end there. As well as handpicked vehicles of the highest standard, each van we sell, lease or rent undergoes a rigorous 100-point inspection before it leaves our forecourt.
Our own high quality standard means you can enjoy a wide range of premium new and used commercial vehicles at outstanding prices, and we can continue to exceed our customers' expectations.
Lease
We don't just sell commercial vehicles, we lease them too! Our van leasing service unlocks a range of advantages for businesses of all sizes and niches, including predictable monthly payments and a low deposit, flexibility to upgrade in accordance with agreement terms, no or minimal risk of vehicle depreciation, lower maintenance and repair costs, and zero trade-in costs. As a result of these advantages, our leasing service has been one of the most expanded areas of our business, with more and more companies at varying stages keen to harness the benefits of van leasing for themselves.
We have a number of makes and models available for lease, meaning you can access a great choice of new and used vans to fulfil your own business purposes. Our team is also on hand to help you fund your commercial vehicle with a selection of leasing products available courtesy of the trusted finance providers we collaborate with.
Rental
Our vehicle rental service is another part of our business that has growth dramatically. Offering low price points and better flexibility, commercial vehicle rental is a great choice for many businesses, particularly those looking to reap the rewards of business van use for the short term. Our vehicle rental service is renowned for being easy, fast and friendly, leaving you to access the commercial vehicles you need whenever you need them. Our rental vehicles come with a selection of great features, with selected models sporting the latest sat-navs, reverse sensors, adaptive cruise control, plus much, much more.
Unsure about whether purchasing, leasing or renting a van is the best option for you? Our team can help guide you in the right direction. In addition to having first-hand knowledge and experience within the commercial vehicle market, we have expertise assisting businesses from all walks of life on their van buying or hiring journeys. Our team puts the care of its customers first to ensure you reap all the rewards of van use within your business.
Find out more about working with Vans 365 by browsing our website or contact us direct to discuss your options.
Share this article